When it comes to cap screw reliability, you don't want to take any chances. Cap screws, especially top-of-the-line ones such as Grade 8, are used in critical applications in industries such as construction, agriculture, mining and many others. In many cases, failure could be catastrophic.
At Kimball Midwest, we understand the need for reliable Grade 8 cap screws, and that need has led to the largest private-label product launch in our 96-year history: the
KM-USA High Head Grade 8 Cap Screw
line.
The KM-USA line contains a number of attractive features that combine to make it stand out among Grade 8 cap screws:
High Head
The KM-USA line has a 20% higher head than a standard cap screw, providing increased torque and making it easier to install without hurting your knuckles.
American-Made
As you might gather from the name, the KM-USA line is 100%
American-made
from steel melted and rolled in the USA. That assures the highest quality.
Traceable
The proprietary KM-USA head mark provides 100% traceability, with each lot traceable back to the raw material.
Chamfered Point
A 30-degree chamfered point on every KM-USA cap screw makes threading easier, assisting the assembly process.
High Strength Chrome Alloy Steel
The outstanding steel used to produce the KM-USA line provides at least 150,000 psi minimum tensile strength.
Superior Plating and Precision Rolled Threads
The KM-USA line has excellent RoHS compliant zinc yellow trivalent plating along with precision rolled threads, giving you the quality you expect for demanding applications.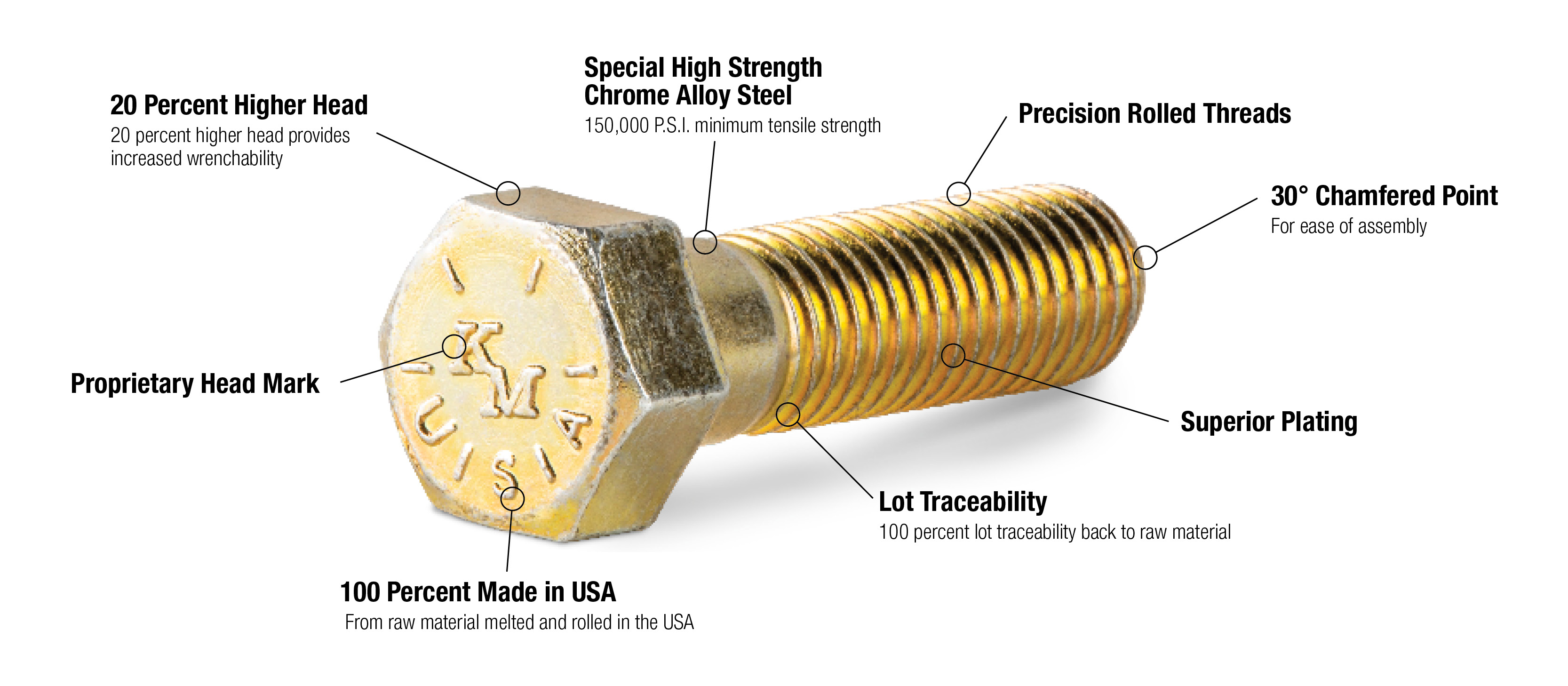 In addition to cap screws, the KM-USA line combines with
washers
,
nuts
and
torque-tension nuts
to create the ultimate matched Grade 8 system. The washers and nuts also offer complete traceability back to the US made steel wire they are made from and are heat-treated to produce maximum holding power.
KM-USA High Head Grade 8 Cap Screws are available exclusively through Kimball Midwest's team of more than 900 Sales Reps serving customers across the continental United States.