When it comes to welding equipment, choices of what you can buy or rent to get the job done are endless. Perhaps you have your machine in house and just need to fill up on gases and electrodes. Or maybe you are looking to get it all covered.
Of course, at Kimball Midwest, we specialize in maintenance, repair and operations.
We stock everything from torches, electrodes, universal regulator kits and hose repair kits to safety equipment, including our very own Therma-Shield fire protectant.
So if you're looking to get started, upgrade or even stock up on your supplies, we've got you covered: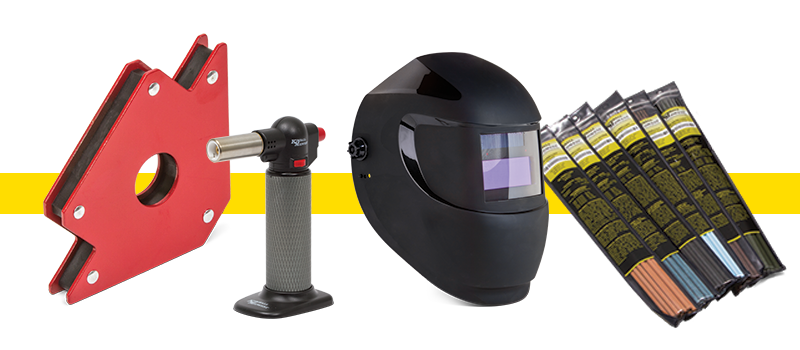 The Maxx-Butane Torch has a specially optimized high-flow combustion chamber that produces a 2,500°F "blow torch" flame. It provides propane/MAPP gas heating power from standard butane fuel. It also has a hands-free design that has a sturdy base and a locking mechanism that allows the flame to remain lit.
The torch has a simple push-button start and adjustable flame in addition to being refillable.
The Mini Pro-Torch is as tough and durable as a mini torch can be. Both it and the Pro-Torch Professional have an automatic safety ignition with an adjustable flame (up to 2,400°F) and a 60-minute run time. They are both refillable.
Electrodes
With our Ultralloy and Duralloy kits, we have you covered on whatever you might need for your common arc welding tasks. They come in a variety of sizes and assortments.




And, of course, you'll need an

electrode holder

as well. Make sure it has the proper capacity.
Magnets
Need a helping hand? Clearly, extra hands can be problematic when it comes to welding due to the heat.


But our

magnets

can do the job. We have powerful magnets that securely hold ferrous metals in 45°, 90°, 135° and 180° positions during assembly. The riveted steel frame and neodymium magnets provide a long life in demanding shop environments and they are ideal for sheet metal, pipe, welding, soldering and general assembly operations.




The 1-1/8" through hole on the 50-pound magnet provides a secure jig for rod, bar or other cylindrical parts during welding or assembly. They are sold in 25 and 75 pounds, as well.
Kits
We have two kits that can be helpful to those who weld, the Oxy/Acetylene Cutting and Welding Kit as well as the Welding Hose Repair Kit.



The kit includes a 540 oxygen regulator, a 510 acetylene regulator, a torch handle, cutting and welding tips, 20 feet of 3/16" twin hose with "B" fittings, goggles and a flint lighter. It also is compatible with Victor Equipment.




Our Welding Hose Repair Kit

keeps you up and running when things go wrong and your hose stops working. The kit has 1/4" and 3/16" parts as well as a low-profile crimper to make repairs in confined areas. The kit decreases downtime and gets your equipment back in service quickly.
Safety equipment
When it comes to safety, what do you need? All of it. Don't skimp; it could mean serious injury.
Our assortment
includes a flame-resistant jacket, sleeves, a beanie, precision TIG gloves, side split welding gloves and a pair of welding gloves with an aluminized liner.
And clearly you won't even think of welding without a
helmet
. The
auto-darkening welding helmet
adjusts from a No. 9 to No. 13 while using the torch and automatically darkens the moment the arc is struck. The solar powered helmet darkens in less than half a second.
The mask also darkens to a No. 4 while grinding. The mask is lightweight (about 2 pounds) and will operate from 14°F to 158°F.
Welding Flashback Arrestors
are a great product that prevent flashbacks during the welding process that could damage equipment and injure workers. The built-in check valve prevents flame from traveling back to the regulator or tank. They are made in the U.S.A.
Therma-Shield
is a product that is highly important when it comes to safety. The gel spray can be applied to the material you are welding, and it reduces the transfer of heat through the metal. It protects the components surrounding the open flame.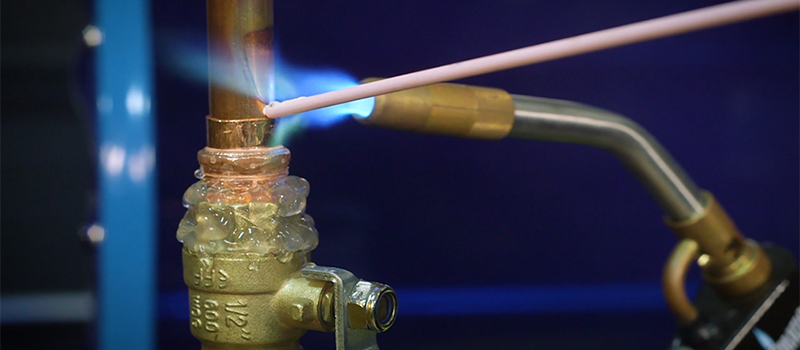 The thick gel formula sprays on and stays in place. It reduces or eliminates distortion of the metal caused by the heat of welding and prevents fire from occurring or spreading. The spray protects wiring, wood, paper, plastic, insulation, fabric, painted surfaces and other materials.
Abrasives
Of course, once your weld is complete, you have to finish that seam and make it smooth.


We have you covered there, with a whole host of blogs about abrasives. You can start right

here

.