In 2016, more than 22,000 Americans sustained an eye injury on the job and more than 1,000 of them missed more than a month of work recovering, according to the Bureau of Labor Statistics.

March is Workplace Eye Wellness Month, so there's no better time to think about eye safety at work and the importance of using appropriate eye protection whenever it's needed. Many items can help maintain eye safety in the workplace, but the most common group probably is safety glasses.


Safety glasses
can range in cost from just a few dollars to $30 or more, but they all are required to meet the same
standards
for protection and safety, and virtually all are made from the same material (polycarbonate).
Why the wide range of pricing? In addition to a few specialized features, it largely comes down to personal preference, style, and comfort. Those with tinted lenses and nicer styles often end up looking very similar to regular sunglasses.


Simple safety glasses with a lower cost usually are the most popular option because people often think of them as somewhat disposable items. People want a new pair when they get scratched, so they don't want to invest more money than necessary. (Most safety glasses are not hard coated and thus are susceptible to scratching.)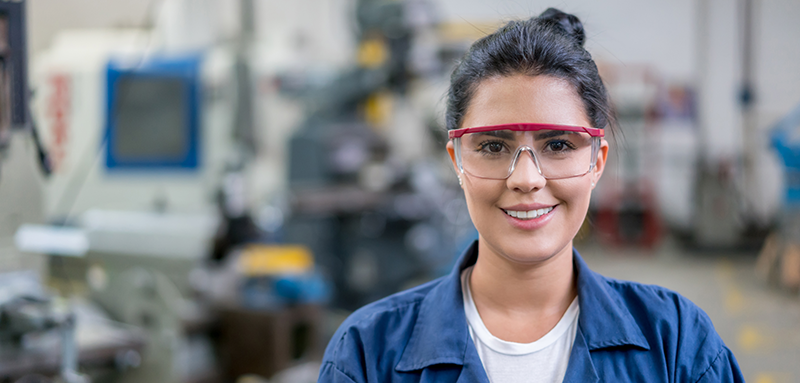 Another factor to consider when selecting safety glasses is the lens color. Clear lenses are best for indoor environments, while
gray or smoke lenses
provide protection similar to sunglasses, reducing glare from sunlight and other bright lights.
Amber or yellow lenses
are great for low-light environments, such as foggy or hazy days or around dusk.
For the next level of eye protection,
goggles
provide additional coverage and a secure fit with an elastic strap. Although some people don't find goggles very comfortable, in some cases, such as where chemical splashing might occur, they are the right choice for adequate eye protection.
Sometimes, protecting only your eyes isn't enough. That's when
face shields
come into play, providing full-face protection from debris and more. And you can combine them with appropriate safety glasses for maximum safety.
Welding
introduces two specific eye hazards to keep in mind: radiation and bright light that can cause eye damage. That's why there are safety glasses, goggles, face shields, and more specifically designed to keep people safe during welding.
Proper eye protection is a vital part of keeping employees safe. There's an option available for virtually any scenario: It's just a matter of finding the right tool for each situation.