When you get shiny, new equipment, does it take pride of place in your shop? If so, we get it. But what happens when it's no longer shiny and new? Your equipment might need a coat of paint, but matching the color presents a challenge.
Your equipment works hard for you – thankfully, you can restore that shiny, new look with our line of Ultra Pro•Max paints that color match the most popular equipment brands. The extremely high amount of paint solids in Ultra Pro•Max provide better coverage with less paint, so you don't need as much, and you save time.
Tractor and Implement
If your farm equipment needs a refresh, there's a good chance we have the color to match. These oil-based enamel spray paints are resistant to heat, abrasion and chemicals, and they are formulated for maximum outdoor durability.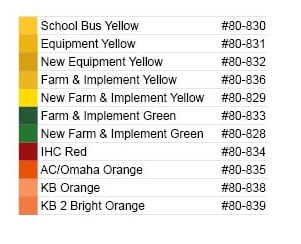 Industrial Equipment
Of course, it's not just farm equipment that needs a fresh coat of paint every now and then. Forklifts, scissor lifts and other types of machinery also get a lot of wear and tear.
Luckily, we can match many of these popular manufacturers and brands, too. These oil-based enamel spray paints hold up well to heavy-duty use.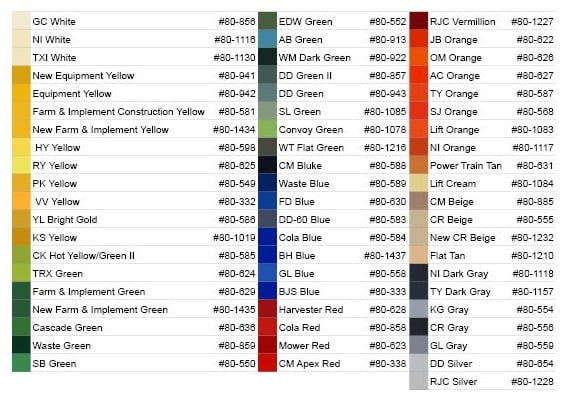 As you can see, we can color match many types of equipment. But if you're not that concerned about matching, we have a variety of standard colors that meet your needs.
Whatever color you choose, you are still getting the same high-quality paint with four times the paint solids, coverage and hide. Plus, Ultra Pro•Max paints are safer for the environment and the user.
We can help you get the colors you need –