You know all about abrasive grains and which one is best for your needs.
After all, you've been doing this for a minute, and you know c
eramic abrasives provide fast cutting and aggressive stock removal on tough alloys
and
zirconia abrasives are dependable for stock removal on mild steel, stainless steel, alloy steels and most ferrous and non-ferrous
metals and non-woven abrasives clean mating or sealing surfaces with ease.
Of course, if you need a refresher, you can check out our most recent blog
, just to be sure.
But did you know Kimball Midwest offers a few families of its own to make your grinding and polishing jobs even easier? If not, here's a primer, so you can pick the right product for your most important jobs.
The
Dark-Fire

™

Family

This family of abrasives has a proprietary ceramic matrix abrasive grain, which provides exceptional service life and aggressive grinding.




It has a self-sharpening grain that regenerates as it is used, exposing fresh, sharp abrasive grain for consistent performance throughout the life of the disc.




Its cooler running design is ideal for use with heat-sensitive materials.




The Dark-Fire™ wheels are available in various sizes from 2" to 4-1/2", and mounting configurations for die grinders, angle grinders and belt sanders are available.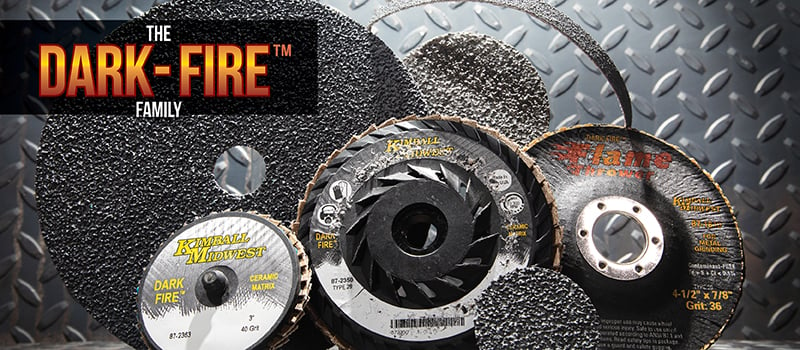 The Kim-Brite™ Family
These grinding and polishing discs use a non-woven fiber impregnated with abrasive grain to provide fast, safe and efficient cleaning on virtually all metals. This family is ideal for the removal of scratches, flashing, rust, oxidation and surface contaminants.
The Kim-Brite™ family provides light deburring and blending of ground out welds. The discs have a non-loading design that helps provide consistent results.
They are available in various sizes from ¾" to 7" and have mounting configurations for die grinders, angle grinders, bench grinders and belt sanders.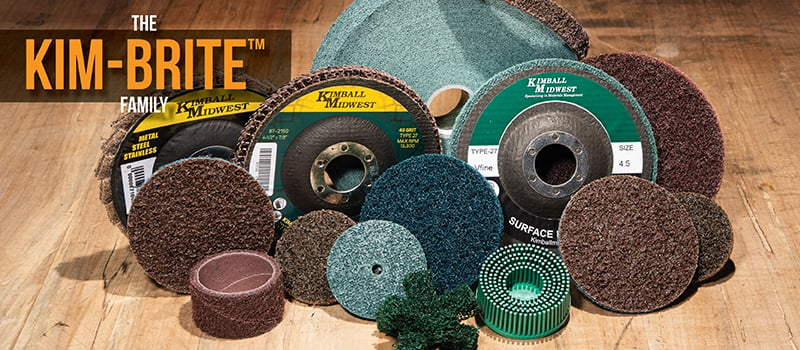 The Crimson-Fire™ Family
This series of abrasives provide premium engineered ceramic grain, which is ideal for quick and effective grinding and finishing of tough alloys including stainless steel, cobalt, Inconel, titanium and more.
The aggressive engineered crystalline structure provides fast stock removal that outperforms aluminum oxide and zirconia abrasive grains.
Crimson-Fire™ is designed to work with heat-sensitive materials and resists scorching the substrate.
The longer life helps increase productivity by reducing time spent on wheel changes.
The discs are available in various sizes from 1" to 4-1/2" and mounting configurations for die grinders and angle grinders.