In many shops, abrasives are used for a lot of different tasks. Whether you need to smooth, grind, sharpen or something else, choosing the right abrasive tool is critical for effectiveness, efficiency and safety.
We've covered the basics of the main types of abrasives in
this recent post
, but if you have a more specialized situation, look no further. Here are five common abrasives-related questions and a great solution for each.
Do You Need to Work with a Soft Metal?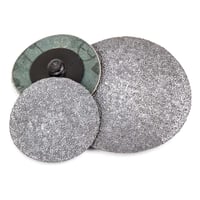 If you're working with a soft metal, our
Dark-Fire™ High Performance Grinding Discs for Aluminum
is the right choice for your job. They are designed to work with heat-sensitive materials and resist leaving scorch/heat marks on grinding substrates.
They outperform other grinding discs in grinding speed and disc life and create reduced loading on aluminum, non-ferrous and soft heat-sensitive materials.

Their proprietary ceramic abrasive grain and lubricating coating provide exceptional grinding speed, and a higher grinding rate offers up to three times more productivity than other discs for faster work completion and decreased worker fatigue.

They come in 2" and 3" diameters in five grits from 24 to 80.
Do You Need to Remove Decals or Other Adhesives?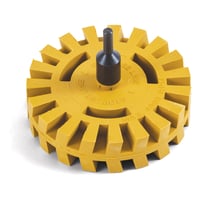 Our
Decal Eraser Wheel
quickly removes vinyl decals, pinstripes, bumper stickers, reflective tapes and adhesive from glass and painted surfaces without damage.
It is wider than solid discs for faster job completion, and its toothed design runs cooler and reduces adhesive smearing. The universal 1/4" arbor eliminates the need for special tools.
Do You Need to Work in a Tight Space?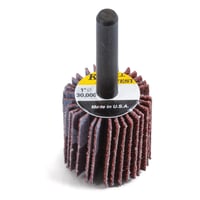 Flap wheels
are great for working in tight, hard-to-reach areas. That's especially true for rounded surfaces like the inside of exhaust or other pipes.
Our Crimson-Fire™ line of flap wheels regenerate as they are used, ensuring sharp edges are always exposed for consistent performance throughout the wheel's service life. The aggressive grain provides a high cut rate on even the toughest alloys, including cobalt, titanium alloys, super alloys and stainless steel.
Do You Want to Avoid Loading?
Do you get tired of abrasives that get loaded up with the material you're removing? Our
Kim-Brite™ Extreme Non-Loading Flap Discs
have a unique design with a mesh-style abrasive structure that provides increased resistance to loading on virtually all materials.
Their heavy-duty construction features layered aluminum oxide abrasive, which provides a cushioned surface that provides both stock removal and surface blending capability, eliminating the need to switch between tools.
The open mesh design provides increased air flow and helps remove heat that can cause scorching or discoloration of the surface.
They come in two arbor styles and with grits of 40 and 60.
Do You Need to Clean Work Surfaces Without Damaging the Material Being Worked On?
Our
Kim-Brite™ Abrasive Brushes
clean work surfaces without damaging the material being worked on. The abrasive grain is molded into tough plastic fingers to clean away material and debris without damaging the work surface.
Their flexibility allows use on difficult shapes, curves and contours. They replace non-woven surface conditioning discs, scrapers, wire wheels and chemical gasket strippers.