So far in our series focused on abrasives, we've covered an expansive variety of wheels and discs. But as we conclude, it's time to review abrasives that exist for more specialized applications.
Abrasive Bands:
Bands are ideal for finishing curved or contoured areas, inside diameters and other hard-to-reach areas. They remove stock, parting lines, imperfections and burs. Some bands are specifically designed for surface conditioning.
Abrasive Belts:
Abrasive belts are used on belt sanders from portable hand-held tools to large stationary maintenance and production tools. They come in various grains and grits for a range of abrasive applications.
Abrasive Rolls and Abrasive Sheets:
Looking for an economical abrasive option with flexible sizing and easy organization? Rolls and sheets might be right for you. They are available in aluminum oxide, silicon carbide, crocus and emery, all with heavy-duty cloth backing or lightweight paper backing for easy use in applications including deburring, cleaning and polishing metal parts.
To choose the right abrasive roll or sheet, pay attention to the weight of the backing. "A" weight paper is the lightest, with the weight increasing up through "E" and "F," which are designed for high tear resistance in uses like belts, rolls and some discs. Higher letters commonly found include "J" (light cloth backing) and "X" (strong cloth backing).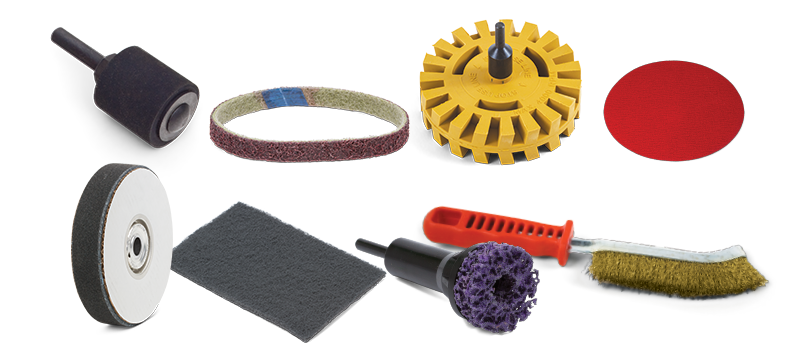 Adhesive Sanding Discs:
These discs have a pressure-sensitive adhesive backing and are designed to stick easily and securely to a backing plate and then come off cleanly when it's time to replace. They come in a variety of grits and grains for various applications.
Hand Pads and Sponges:
Hand pads and sponges are the right tool when it's time for a convenient, hand-held abrasive. They come in a variety of grits for tasks from scouring to final cleaning and finishing.
Stripe Removal Discs:
Stripe removal discs are a specialized group of wheels that quickly take off vinyl decals, pinstripes, bumper stickers, reflective tapes and adhesives from glass and painted surfaces without damaging them. There are several designs that work with different tools and surfaces.
Wheel Hub Resurfacing:
Wheel hub resurfacing tools attack rust, getting it off lug studs, faces and disc rotor hats on the hub assembly. Just attach the tool to a power drill and watch the rust fly.
Wire Brushes:
Wire brushes, unlike abrasives, do not remove metal stock. They target surface contaminants. They also can change the surface texture for cosmetic appearance. They come in a broad range of shapes and formats, including cup brushes, end brushes, hand brushes, tube brushes and wheel brushes. They can perform an extensive assortment of tasks, such as removal of rust, paint, oxidation, forging scale and corrosion; deburring and edge blending; cleaning forged components; and surface preparation for metal, rubber, plastic and other materials.