The previous installments of this series covered cutting and grinding abrasives, which are used to shape your work piece. In many cases, you may wish to use a surface preparation/conditioning abrasive as the next step, to clean and polish your work piece for a finishing touch or to prepare it for painting.
Surface preparation/conditioning abrasives remove paint, rust, corrosion, heat discoloration caused by welding, light burrs and other minor imperfections. They are not used for heavy stock removal, so you will not drastically alter the shape or dimension of the surface you are working on.
With some exceptions, they typically come in different grit sizes with a color code for each, so be sure to select the right grit/color for the desired finish.
Coarse grit is brown, ideal for rapid removal of paint and rust.
Medium grit is maroon, which produces a finer finish.
Fine grit is blue, used to smooth surfaces for painting.
Very fine grit is gray, ideal for producing a soft-looking surface on stainless steel.
These abrasives are often made of non-woven nylon mesh, which prevents the danger of flying wire common with wire wheels. Additionally, the material conforms to the work piece, making it ideal for curved and irregular shapes. You should be aware of the potential for the nylon to melt and smear on the surface. To prevent this, keep the disc moving to avoid heat buildup.
In general, smaller discs (2-3 inches in diameter) are made for high-speed die grinders. Wheels (4-7 inches in diameter) fit on right angle grinders.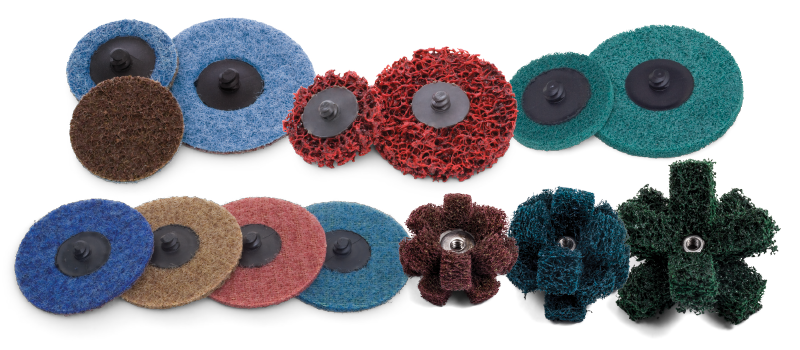 There is a large variety of surface preparation/conditioning abrasives on the market. Here is a sampling of Kimball Midwest's more popular surface preparation products:
Kim-Brite
– The non-woven nylon fiber is suffused with aluminum oxide grain, ideal for light deburring and blending as well as removing scratches, flashing, rust and oxidation from metal surfaces. These discs come in fine, medium or coarse grits with
Type R
or
Type S
mounts. Extra coarse grit is available in 2-inch and 3-inch diameter discs, Type R only.
Kim-Brite XL
– This Type R, high-performance ceramic grain disc outperforms standard aluminum oxide grain, working 2-3 times faster and lasting 2-3 times longer than conventional surface conditioning discs. The XL is ideal for light and heavier deburring, cleaning, blending and finishing and quickly removes scratches, flashing, rust, paint, corrosion and more.
Kim-Brite Cross Buffs
– These are designed to conform to interior surfaces, such as tubing, dies, molds lifter bores, valve bodies, brake cylinders and other parts. They resist loading on softer materials, run cool, and eliminate edge fraying and grain shedding. The internal threads quickly attach to a
mandrel
. These cross buffs range from 1-3 inches in diameter and are available in fine and medium grit.
Crud-Buster Super-Maxx
– These stripping discs have a durable ceramic alumina grain that rapidly removes up to twice as much surface contamination as conventional stripping discs. Plus, they last up to four times longer. They clean and cut through heavy rust, paint and corrosion. You can use lighter pressure for a smoother finish or heavier pressure for more aggressive material removal. These discs are orange, since they do not come in a specific grit size, but they use a Type R mount and come in 2- or 3-inch diameters.
Kim-Brite Surface Maximizer
– This abrasive comes in 2-, 3- or 4½-inch discs and a 6-inch version for bench grinders. They are designed to combine aggressive surface conditioning with super-fine finishing, making them ideal for all types of final finishing operations. They impart an exceptionally bright, mirror-like finish on a wide range of metals, including stainless steel. The design is tough and durable, outlasting other finishing wheels by up to 10 times. Like the Crud-Buster Super-Maxx, this abrasive does not fit the standard color coding/grit size.