We take pride in providing customers with the Kimball Midwest Experience, but it goes beyond face-to-face interaction with your sales rep. We also offer the convenience of online shopping with the personalized experience you've come to expect from Kimball Midwest. Our online ordering system complements the service you get from your sales rep, allowing you to get the products you need when you need them.
If you find you need something between visits from your rep, it's quick and convenient to order online at kimballmidwest.com. Sure, you can email or text your rep, but you need to find the part number, write it down, figure out a quantity, then contact your rep to submit your order. The online order system allows you to find the product quickly and easily, and you can submit the order yourself at any time of the day or night.
Here are just some of the benefits of shopping on kimballmidwest.com:
View, print and pay invoices.
Track packages.
View and print Safety Data Sheets.
Receive same-day shipping and next-day delivery (where applicable).
Watch detailed product videos.
View products that are currently on promotion.
Your sales rep is copied on every online order and will follow up with you to put away and organize the products you ordered – just like when you order directly from them. If you make a mistake or change your mind, your rep can also cancel or correct your online order.
Shopping at kimballmidwest.com can also help you fulfill specific needs. For example, one of our Massachusetts sales reps has a construction customer that orders everything he needs online for a specific project, including products that are not in his regular inventory. This ensures he doesn't use up the inventory he already has in his shop for this one project.
Another customer likes to have complete control over his inventory, so he orders everything himself from kimballmidwest.com. However, the sales rep still visits his shop to ensure the customer is getting the full Kimball Midwest Experience.
Interested in signing up? Your rep can assist you with the registration process, or you can follow these quick setup instructions.
Go to kimballmidwest.com and click "Login or Register" near the top of the page.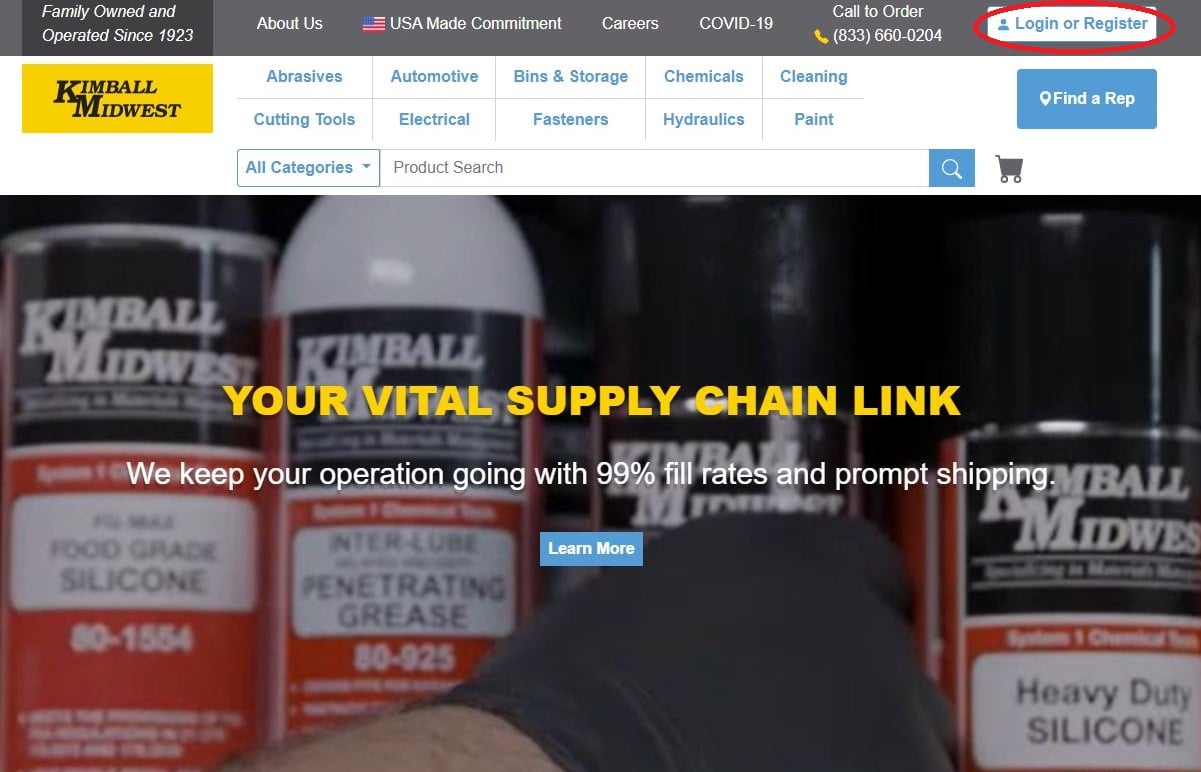 In the section titled "Existing Customer's Verification," enter your account number and main phone number (with or without dashes). Once you have entered this information, click "Validate." If verification fails, please call 800-214-9440.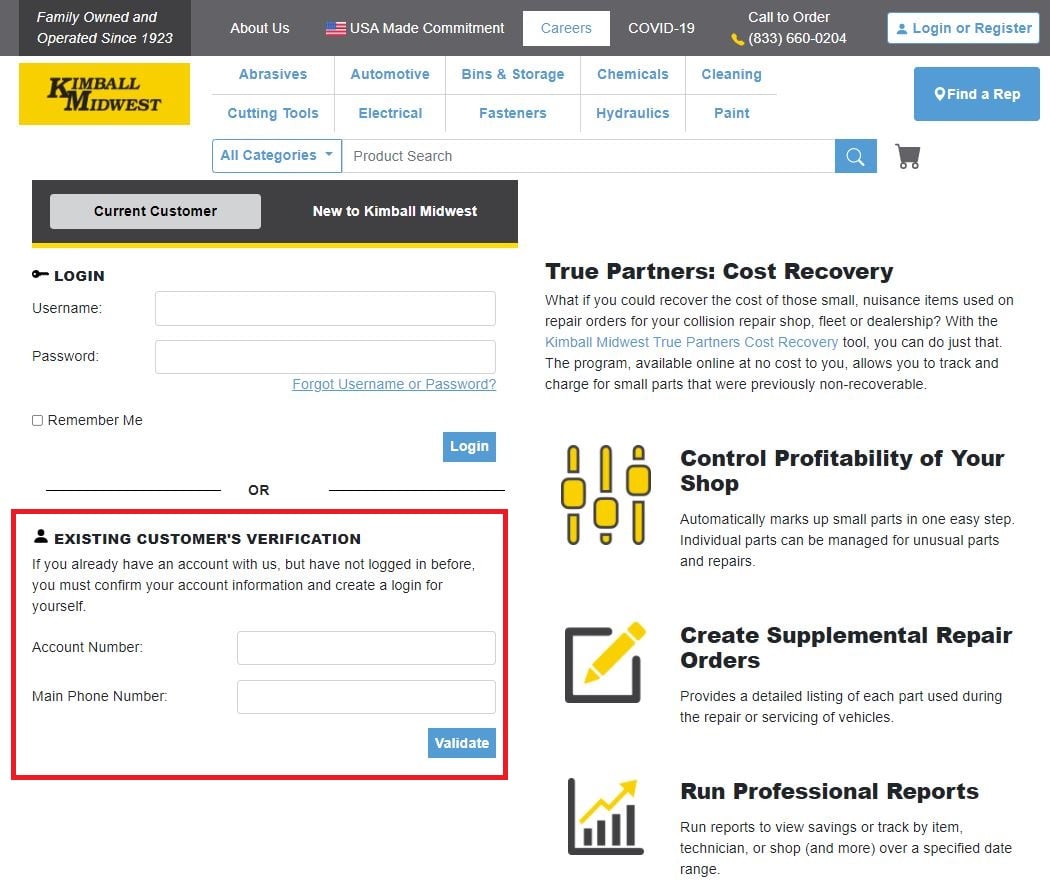 Create a unique username and password of your choice and fill out the remaining user information. Then click the "Create Login" button.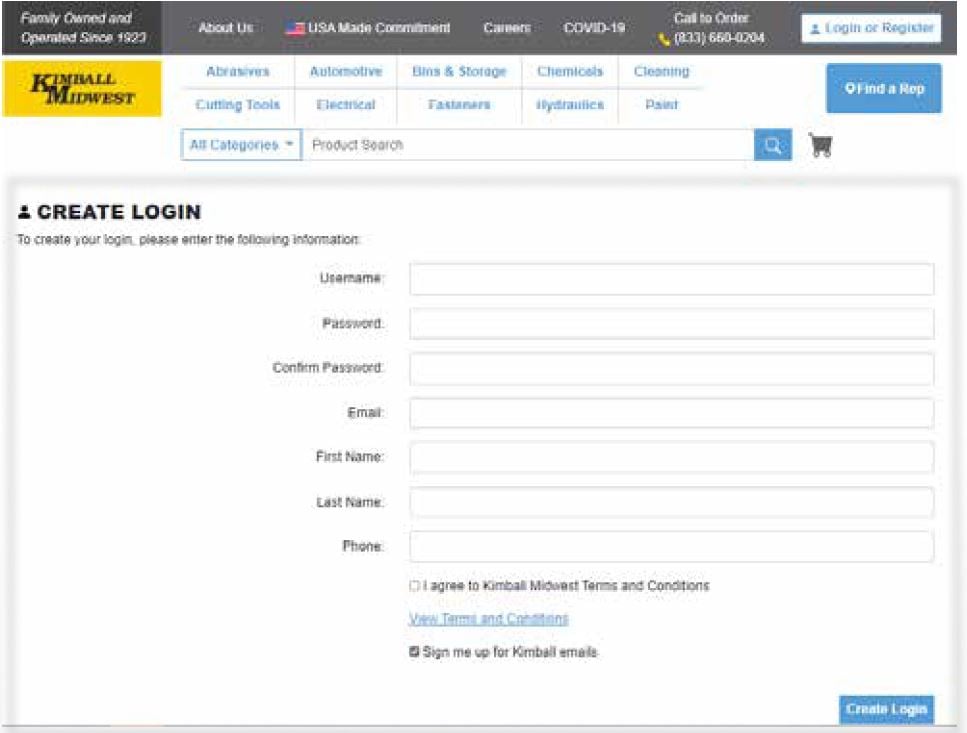 After completing step 3, you will see the page below. If you do not receive an account approval email within 24 hours, please contact your Kimball Midwest sales rep.

Once your account is created, you will receive two emails. The first will confirm that your username has been set up online. The second will arrive after your account activation is approved and will provide a clickable link to go directly to your online account – just enter the username and password you created and log in to start your online order. It's that simple!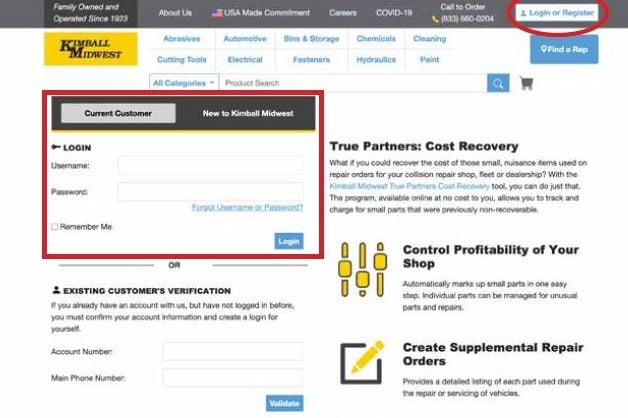 We understand for some, nothing beats having your rep at your shop, but we also want to give you the option to order any of our more than 51,000 MRO products at any time that is convenient for you. You will continue to get the same quality Kimball Midwest Experience from your sales rep you have always received.
Don't have a sales rep or an online account at kimballmidwest.com? If you want the Kimball Midwest Experience, we can help you