Grinding wheels and discs aggressively and quickly shape and remove metal and are ideal to use when the finish doesn't matter. Common uses include smoothing weld beads, removing rust, grinding edges and rapidly removing stock. They are often used in fabrication, trailer/equipment repair and general maintenance.
These abrasives come in different grains. Aluminum oxide is good and less expensive but tends to have a shorter service life. Zirconia is a step up from aluminum oxide. Ceramic is higher quality and lasts longer. Diamond grain is the best of the bunch in terms of performance and service life.
Grinding Wheels
Grinding wheels are bonded abrasives designed to be more aggressive than coated abrasives. They are typically used on right angle grinders and held at a 15-degree angle against the work piece instead of perpendicular. This allows you to have greater control of the tool. Most grinding wheels have depressed centers, which keeps the wheel mounting nut away from the work surface.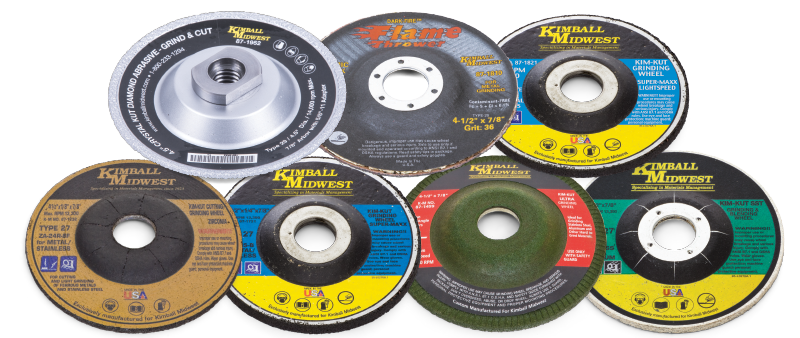 When it comes to grinding wheels, there are two common styles:
Type 27 wheels are flat across the bottom to allow for aggressive grinding on flat surfaces.
Type 29 wheels have a 30-degree angle around the outside that allows for grinding irregular and contoured surfaces.
They are available in multiple diameters, but the 4-inch and 4½-inch are the most popular. The diameter you need depends on the grinding tool you're using.
Wheels may come with a mounting nut, allowing you to easily spin it on or off your grinding tool without the need for additional tooling or nuts. Another option is the center hole mount, which requires the use of a wrench and mounting nut.
Examples of grinding wheels include:
Kim-Kut – This economical aluminum oxide wheel grinds quickly and efficiently with less waste. It's ideal for grinding mild steel, stainless steel, alloy steel and most ferrous metals.
Kim-Kut Zirconia – The zirconia grain cuts 2-5 times faster than aluminum oxide wheels and lasts 2-4 times longer. It's designed to grind mild steel, stainless steel, alloy steel and most ferrous metals.
Kim-Kut Ultra – This wheel has a zirconia/ceramic blend grain that quickly removes heavy base stock and aluminum welds. It resists loading, is extremely fast cutting, has a longer performance life and runs cooler and quieter than other bonded wheels.

Super-Maxx Lightspeed™

– The ceramic grain/blend of this wheel offers extreme performance and longer service life than either zirconia or conventional ceramic wheels. It runs cooler to allow for use on heat-sensitive materials and resists leaving scorch/heat marks on the work piece.

Dark-Fire™ Flamethrower

– Our most aggressive of the non-diamond grinding wheels, Flamethrower provides more than two times the stock removal rate of high-performance grinding wheels and three times that of conventional wheels while maintaining very long life.

DiamondX – These top-performing grinding wheels are designed to work on an almost unlimited range of materials. They are the longest lasting of all grinding wheels and offer superior safety and consistent performance.
Grinding Discs
Grinding discs can remove large amounts of stock in the process of smoothing and deburring. They are flat-coated abrasive circles that attach to a backing pad or arbor. These discs are used on smaller grinders and come in diameters from 1½-inch to 4-inches. They are ideal for tighter spaces.
The most common discs use either a
Type R
or
Type S
mount. Choose a mount that corresponds with the disc size. The mount attaches to the grinder, then the disc fits on the mount.
Examples of grinding discs include:
As you can see, you have many options. Ultimately, you will benefit more from abrasives designed for longer service life and faster performance because they are more cost-effective. You won't need to replace them as often and they get the work done faster, saving you time and money. To learn more about which grinding wheels and discs are best for your job,
.