Have you ever bought a cheap product or worked with a company that was offering inexpensive services only to have it come back to bite you?

People often fall into the trap of buying the product or service with the lowest price, regardless of other factors involved, such as quality and
service
. Products with low quality or backed by poor service can be detrimental to your business, so spending less on them frequently isn't the best choice.
For example, buying a cheaper
fastener
can seem like a great way to save money until it fails to do its job and you're left scrambling for a solution. The same could be said about an
abrasive
wheel,
electrical
connector,
tool
or any shop supply.
A company that is
dedicated to quality
offers superior products and services to its customers to ensure their satisfaction. Their products offer outstanding value that will help reduce overall operating costs and increase efficiency.
Considering
quality
as a company's top priority means not allowing poor quality
products
to represent its
brand
. This dedication ensures each product meets specific industry standards. Products must pass through stringent quality tests, and if they don't meet specific requirements, they are sent back to the manufacturer. No compromises.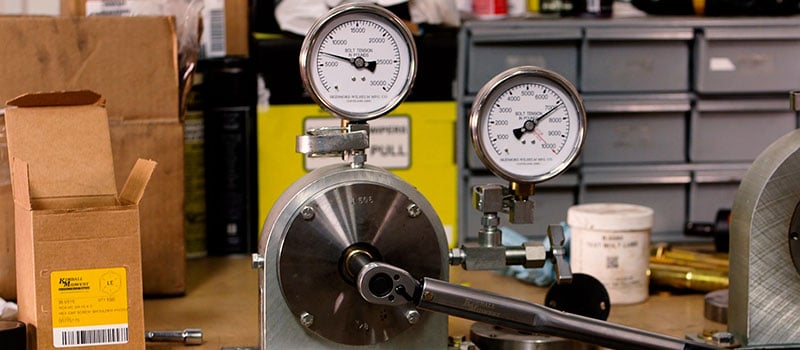 Skidmore Wilhelm's bolt tension calibrator has been the industry standard in the testing of high-strength bolts since the 1950's.
Being
focused on quality
ensures the products a company is offering to customers can help them overcome challenges faced in demanding operations, like repairing a vital
hydraulic
system or drilling into hardened steel. These products can provide superior performance, longer service life, increased user safety, reduced equipment downtime and lower labor cost. These factors help drive a business' reputation and long-term customer loyalty.
Quality shouldn't be underestimated as a driver of a company's reputation. If it was ever easy to hide quality issues, the tidal wave of user feedback on
social media
platforms and other websites has made it next to impossible. Customers who are dissatisfied because of the quality of a product can quickly let the world know about it and damage a company's credibility. In the end, investments in quality are investments in a company's future success, at both the
distributor
and the end user's level.
When evaluating for quality, it is helpful to consider the
eight dimensions of quality
that have been recognized for decades: Performance, features, reliability, conformance, durability, serviceability, aesthetics and perceived quality. Although companies generally can't focus on all these aspects of quality, giving attention to several of them in procedures and marketing can help them differentiate themselves in the
marketplace
.
The Rockwell Hardness test determines the hardness of metal. The harder the metal, the more pressure it can withstand, therefore the more reliable it is.
By working with a company that is committed to quality in many of its forms, you'll be able to get your hands on
products
that won't break or fail for a long time, or in most cases ever, thereby giving you peace of mind and ensuring effective execution. Your maintenance, repair and operations (MRO) costs will significantly decrease.
You won't have to deal with frequent repairs that can lead to downtime and halt your production, resulting in significant loss to your company. Moreover, you'll receive high quality, dedicated services by
sales representatives
who will provide you tailor-made solutions according to your individual situation.
If you have been struggling to find a company that is committed to quality and can offer you top-notch products that will effectively improve your operations and
reduce MRO costs
, you are in luck. At Kimball Midwest, quality is woven through everything we do. It is our commitment to quality that differentiates us from others in the market. When you work with us, you will see how our
quality commitment
allows us to offer unbeatable service and exceptional products.