Winter is here, which means shorter days, cold temperatures and snow for many people.
While it's the time for unpleasant tasks like scraping windshields and shoveling driveways, winter is also the time for fun seasonal activities. From baking cookies to skiing and sledding, there is no shortage of activities to take part in this season.
Kimball Midwest is getting in on some of the winter fun. We've built a snowman of some of our best products. These products are great to have on hand and can be used in just about any kind of shop setting.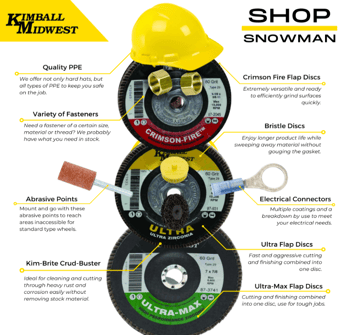 Building the Snowman
Body: To build the body of the Kimball Midwest snowman, we've used a few abrasive discs. The bottom and middle of the snowman are made of our Ultra-Max Flap Discs and Ultra Flap Discs. Both have a zirconia abrasive cloth that provides fast cutting and finishing.
The top of our snowman is made from a Crimson-Fire™ Flap Disc. It's ideal for quickly and effectively grinding and finishing tough-to-grind alloys. Its high cut rate increases productivity for faster work completion and decreased worker fatigue.
Arms: Traditional snowmen have sticks for arms, but our snowman uses abrasive points and electrical connectors.
Kimball Midwest abrasive points are great for fast metal removal and allow you to reach areas inaccessible to standard type wheels. We also offer a variety of electrical connectors that have multiple coatings and provide the durability your shop needs.
Eyes: For our snowman's eyes, you'll find they aren't made of coal. Instead, they're made of fasteners. No matter if you need nuts and bolts, screws or anything in between, Kimball Midwest has the fasteners you are looking for. We offer fasteners in many shapes, sizes and materials that are perfect for any project.
Buttons: The buttons of the snowman are made of bristle discs and a Kim-Brite Crud-Buster Disc. Bristle discs are perfect for light to medium deburring, stripping, cleaning and polishing. Their flexible design easily rides over the material's surface, removing gasket and debris without gouging.
If you need something for heavy-duty stripping and cleaning, the Kim-Brite Crud-Buster disc is a great option. Not only is it ideal for cleaning metal surfaces, but it is also faster and safer than traditional wire brushes.
Hat: No snowman is complete without a nice hat, and the Kimball Midwest snowman is playing it safe with a hard hat. We offer head protection that not only provides superior protection, but comfort as well. Additionally, Kimball Midwest offers different kinds of personal protective equipment like eye protection, gloves and hearing protection so everyone in your shop can stay safe this year and in years to come.
Get ready for the year ahead, and stock up on these items today. To purchase these items or any Kimball Midwest product, connect with a sales representative. If you don't already have a sales rep, we can help you