Cutting tools are essential to your repair and maintenance arsenal, whether you're a professional or amateur. There's a cutting tool for every project, but the range of tools available can be overwhelming. What kind of drill bit do you need, and which length is most appropriate? Which saw is best for cutting metal? When is a hole cutter a better option than a drill bit? Having a little knowledge of cutting tools is critical for choosing the best tool for the job.


Drill Bits


When it comes to cutting tools, drills are the most versatile and widely used. You have a vast selection of
drill bits
to choose from, which can be intimidating if you're not sure what you need. To start, consider the material will be drilling. This will help you determine the best bit for your needs.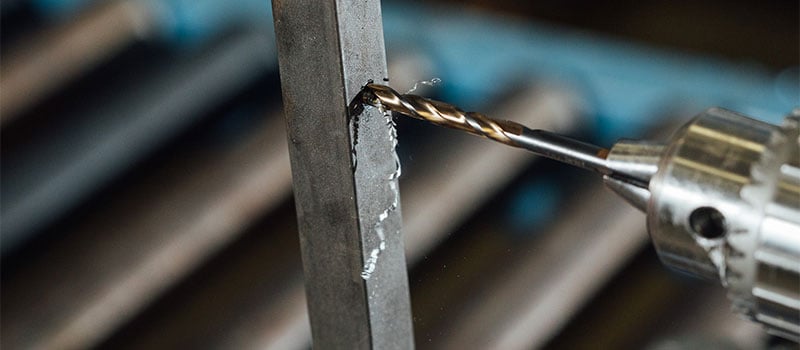 High Performance MRO (Maintenance Repair and Operations) Drill Bits
Popular MRO Drill bits come in three standarized lengths:
Industrial/jobber is the longest standard-length bit, it provides additionally reach in hard-to-get-at areas.
Maintenance/mechanics length is 15% shorter than the jobber length, making it more resistant to breakage.
Screw machine/stubby is the shortest, making it more rigid and less prone to breakage. This is an ideal length for drilling sheet metal and other very thin metals.
In addition to fractional and metric sized drills, we also carry number (wire) gauge and letter diameter drills. These drill bits provide size coverage in between the fractional sizes where high-tolerance holes need to be created and are often used to create the holes used for tapping operations.
Hole Cutters


Hole cutters are an ideal option for cutting larger holes because they work faster and use less power than drill bits. Instead of cutting the material from the center outward, hole cutters cut around the perimeter of where the hole will be formed, converting less material into cut chips and getting the job done much faster.
K7 Hole Saws attach to your power drill. The teeth are designed to cut faster and last longer, cutting materials such as thin metals, pipe, nail-embedded wood, dry wall, plywood and plastics. Additionally, they provide maximum depth cutting and are fully capable of penetrating a 2x4. They range from ¾" to 5" in diameter.
Roto-Kut Hole Cutters are designed to cut clean, precise holes 5 to 10 times faster than a drill bit and last 300 times longer than a hole saw. The cutting head cuts around the perimeter of the hole, converting a smaller amount of material into chips than a drill bit does, then ejects the slug. Roto-Kut can be used for cutting thicker metals, pipe, plastics and tubing, and ranges from 5/16" to 1-1/2" in diameter. Small diameter roto-kut cutters can cut metal up to ¼" thick while larger diameter cutters can go through up to ½" metal. When cutting through thick metal, a cutting tool lubricant, such as Ultra-Cut Gold Stick, is recommended.
Roto-Kut Ultra Hole Cutters have carbide teeth that last even longer than the original roto-kut cutters and come in sizes up to 4 1/2" in diameter and can cut through steel up to 1" thick.
Burs


Burs
attach to die grinders and are used to shape, grind and cut, as well as smooth sharp edges and remove excess material. You can use burs on a variety of materials, including metals. Burs come in various shapes and sizes with various tooth-geometries and specific coatings to allow them to perform different functions.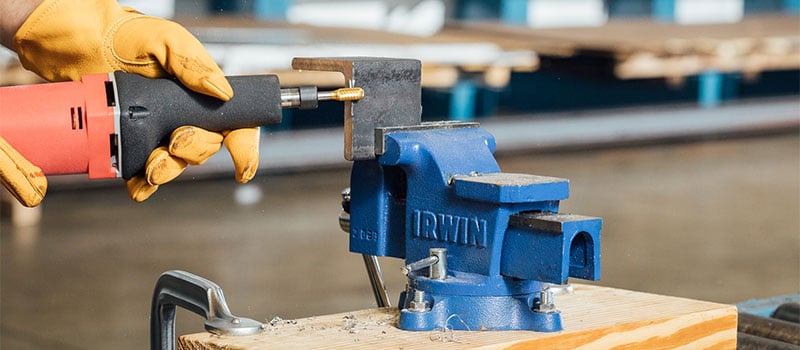 Cylindrical flat end: used for contour finishing
Cylindrical radius end: used for machining contour and to prepare metal edges for welding
Cylindrical end cut: used for contour finishing and right-angled corners
Counter-sink: used for beveling and acute angles
Tree radius end: used for concave cuts and rounding off edges
Tree pointed end: used for concave cuts, rounding off edges, and cutting into tight areas and angled contours
Oval end: used for rounding edges
Cone end: used for rounding edges and surface finishing in tight spaces
Ball end: used for rounding edges, concave cuts and shaping/hollowing
Ball nose cone end: used for rounding edges and surface finishing in tight spaces.
Multi Burs are designed to do the jobs of multiple burs and come in the following shapes: round end, radius end, pointed end and counter-sink.


Saw Blades


Chances are, you have at least one saw in your home or shop. They are versatile but not one-size-fits-all. Different saws perform different jobs.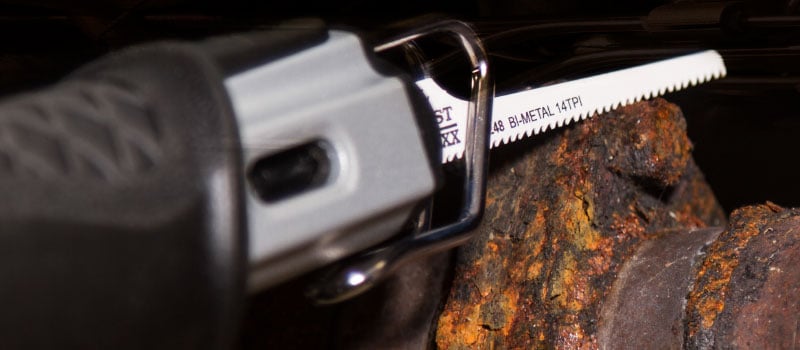 A reciprocating saw is a workhorse that can get into tight spaces and is relatively easy to control. Reciprocating saw blades are used for tough applications, such as cutting through sheet metal, heavy gauge steel or nail-embedded wood.
Cobalt-Maxx comes in 4", 6", 8", 9" and 12" lengths with 10, 14, 18 or 24 teeth per inch.
Cobalt-Maxx Air Saw comes in 3" or 4" with 14, 18, 24 or 32 teeth per inch.
Demolition-Maxx comes in 6", 9" and 12" lengths with 6, 10 or 14 teeth per inch.
Cryo-Gen CM comes in a 6" length with 10, 14, 18 or 24 teeth per inch.
Band saws are primarily used in a wide range of applications, from cutting wood to heavy gauge steel. Band saw blades can cut curves and irregular shapes.
The jig saw's versatility and ease of use makes it popular with DIYers and professionals alike. Jig saw blades are designed to cut wood, fiberglass, drywall and steel. You can use a jig saw for beveling and cutting curves. Our blades come in 2-7/8", 3-5/8", 4" and 5-1/4" lengths with 6, 10, 14, 18 or 24 teeth per inch and feature shatterproof, bimetal construction.
Circular saw blades are ideal for many industries and applications. Some are designed for cutting hard and soft woods, paneling, plywood, chipboard or composites. Others, like the Metal Devil, are designed specifically for cutting metals. Our blades come in 7", 7-1/4", 8-1/4", 9" and 10" diameters.
Taps and Dies



Taps

and

dies

are used for cutting threads – taps create internal (female) threads and dies cut the external (male) threads. If a tap is used, it's referred to as tapping. If a die is used, the process is called threading. Regardless, both are cutting threads.

Power-Taps drill and tap in one operation, eliminating the need to find the right size drill bit to get the correct hole tolerance for the tap. These taps also cut superior strength threads and can be used with materials up to twice as thick as the tap diameter. Conventional taps typically require a tap wrench in order to thread a pre-drilled hole.



Whether you use a Power-Tap or conventional tap, you have other factors to consider, such as tap style (taper, plug or bottom), thread diameter, thread pitch, number of flutes, materials and finishes. When tapping, it's advisable to use a lubricant, such as

Hard-Kut

, to maximize performance and extend tool life.

Dies are hexagonal or round and can be used with either die wrenches or standard adjustable wrenches. You can choose fractional, metric or pipe thread, but you also must consider thread diameter and thread pitch.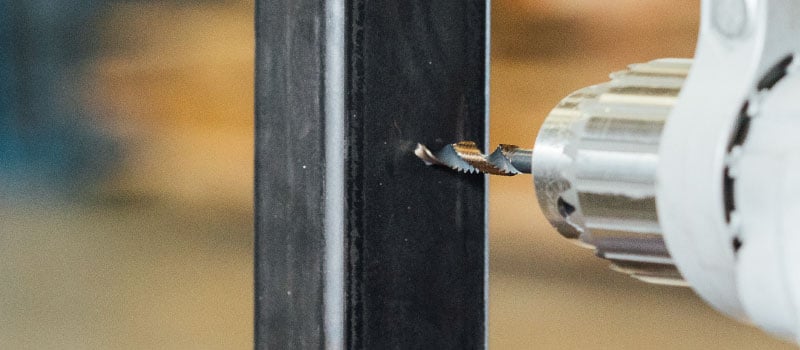 Reamers and Step Drills


Drilling large diameter holes in steel is difficult and time consuming if you're using a hand drill.
Reamers
can be used in a hand drill (please use one with a side handle for safety) to enlarge a smaller pilot hole made with a drill bit. They cut cleanly and efficiently, deburring, enlarging and aligning holes. As with other cutting tools, a cutting tool lubricant is recommended for use with reamers.
Step drills
have a conical shape with a series of cutting tool "steps" that make increasingly larger holes as you progress down the steps. Designed for metalwork, they can also be used for laminates, rigid plastics and other materials. The Ultra Bit Step Drill is useful when drilling into thin materials, like sheet metal, that might bend or buckle. One bit can produce up to 13 different hole sizes and can be used with a portable drill or drill press.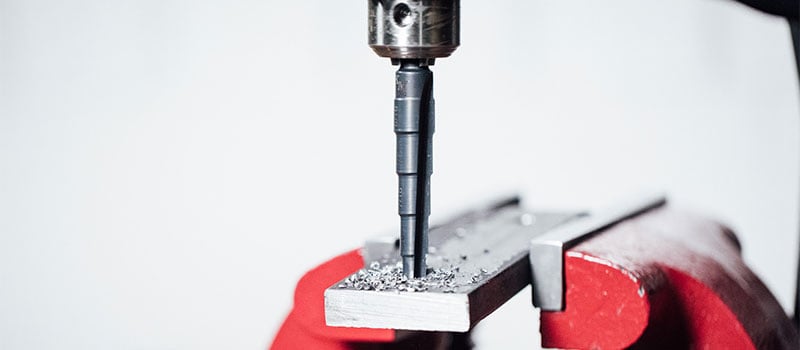 Unless you regularly work with cutting tools and know exactly what you need, it can be difficult to make sense of all the choices that are available. Luckily, our experts can guide you through our extensive line of cutting tools to help you choose what will work best for you.