Most people wouldn't spend a Sunday putting together a custom solution for a customer. But most people are not members of the Kimball Midwest sales force. And that's the thing about our sales force: Our representatives, managers and executives go above and beyond.
In this case, it was one of our key account executives. He had been out in the field visiting a prospect. The customer was using a competitor, but the new purchasing manager wanted to make a change and wasn't sure where to start.
"I emphasized how much we were prepared to go above and beyond to make their transition as easy as possible," he said.
The purchasing manager was almost convinced but for one caveat – they needed a custom electrical cart to replace their antiquated equipment.
The key account executive showed him some pictures of an electrical cart that had been built for another account. The customer liked the idea but needed some customizations on the wire rack.
The key account executive was up to the task, offering to tweak the wire rack to the customer's needs. He spent most of the aforementioned Sunday cutting, welding, grinding and spray painting to get the wire rack the way the customer wanted.
"The outcome was as near to perfect as my skills would allow, and I knew the customer would approve," he said.
He delivered the custom cart a few days later, and the customer was astonished and impressed that he followed through. A week later, the purchasing manager promised a full vendor transition.
But wait! There's more!
Recently, three members of our sales team created a portable electrical workstation for a customer. They placed two Wire and Terminal Caddy assortments on top of two 4-Drawer Racks and secured a Cable Tie Dispenser Rack to the side.
The best part about this setup is that it sits on top of a Roller Rack Cart, allowing the workers to easily roll this workstation out to the specific vehicle or equipment that is being worked on. Having this electrical workstation beside them means they can spend more time on repairs instead of walking back and forth to their parts room.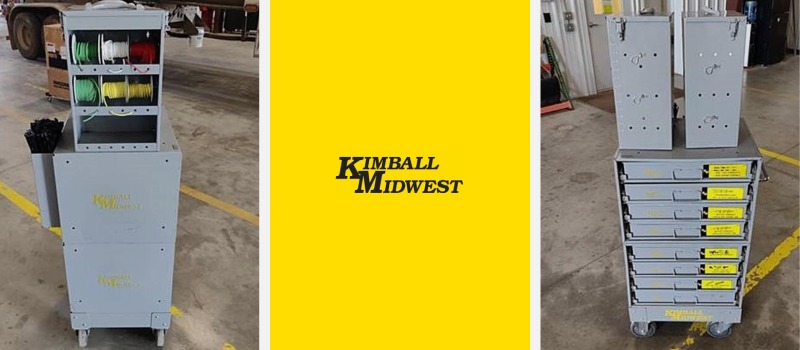 These are just two examples of how we provide the Kimball Midwest Experience!
At Kimball Midwest, every customer is important to us. You'll see our obsessive attention to detail in every product, every delivery and every interaction. There is no one-size-fits-all mindset, as the stories above show.
Looking for the Kimball Midwest Experience? No problem! We can help you