Hydraulic hoses don't look like much, but as part of a fluid flow system, they perform incredibly demanding work. They carry fluids under tremendous pressure, providing the power required to drill through rock, move earth, lift heavy loads and enable other complex operations.
You rely on hydraulic hoses for your job, but how much do you know about them? We'll look at the basics to help you ensure you're choosing the right hose for the job.
Hose Parts
Hydraulic hoses are made up of three parts:
Inner tube: This conducts the flow of the fluid. Nitrile and neoprene are two popular materials used to make hydraulic hoses, but other materials can be used.
Reinforcement: This provides the strength for the hose – in other words, the working pressure. A single fiber-braid hose typically has a lower pressure rating than a single or double wire-braid hose, which in turn has a lower pressure rating than a four- or six-ply spiral reinforced hose.
Cover: This protects the hose reinforcement and can be made from a variety of materials, including fiber, neoprene, vinyl nitrile and synthetic rubber.
SAE Hose Designations
The Society of Automotive Engineers (SAE) dictates the specifications for hydraulic hoses. They use "100R Series" numbers to designate hose standards. Below is a list of the most common hose numbers.

| | |
| --- | --- |
| SAE 100R Series | Description |
| 100R1 | Medium-Pressure Hydraulics; 1 Steel Braid, Rubber Cover |
| 100R2 | High-Pressure Hydraulics; 2 Steel Braids, Rubber Cover |
| 100R5 | Single Steel Braid; Textile Cover, DOT/SAE Truck Hose |
| 100R7 | Medium-Pressure Thermoplastic Hydraulic Hose |
| 100R8 | High-Pressure Thermoplastic Hydraulic Hose |
| 100R12 | Heavy-Duty, High Impulse, Four Steel Spiral Reinforcement |
| 100R16 | Compact High-Pressure Hose; Excellent Bend Radius |
| 100R17 | Compact High Pressure, 1 and 2 Steel Wire, Constant Pressure |
Bend Radius
The bend radius is how tightly you can bend the hose without creating a kink in the inner tube. This is an important consideration when choosing and routing a hose. Subjecting a hose to a bend radius smaller than the minimum recommendation places excessive stress on the reinforcement, opens larger gaps between the strands of reinforcement and severely reduces the ability of the hose to withstand pressure, thereby reducing hose assembly life.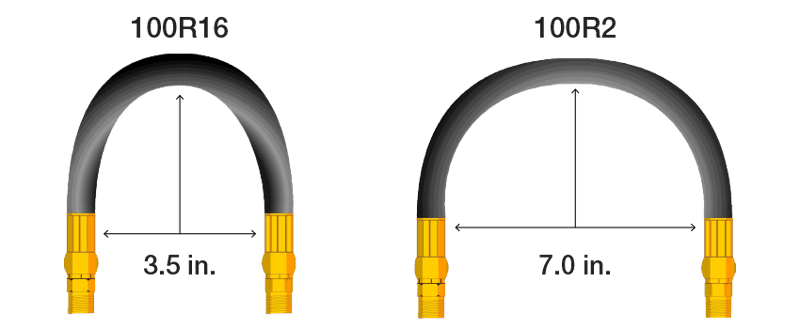 Hoses are designed to bend. All bending affects hose life to some degree. Twisting the hose is much more damaging because it distorts the angle of the reinforcement and dramatically shortens hose life.
Working Pressure
When selecting the right hose for your application, you must strictly adhere to the working pressure ratings, the maximum pressure that a hose will support safely. This is determined by the hose specification and the materials it's made of. Smaller diameter hoses usually have a higher working pressure rating.


Working pressure is what you need to pay attention to, but also be aware of the burst pressure, which is the minimum amount of pressure that will burst the hose.
Shelf Life
When storing hoses, it's best to keep them in their original packaging. Properly stored, hydraulic hoses can last as long as five years. Avoid storing hoses on cement flooring and areas of high heat. Also avoid exposure to moisture and direct sunlight.


You can also buy

products

that protect hoses from wear and tear, such as wraps, sleeves and tapes.
STAMP
STAMP is a useful acronym for selecting the proper hose. It refers to:
Size
Temperature
Application
Media
Pressure
Let's take a look at each of these terms.
Size: Hose is sized according to its inside diameter (I.D.). Hose size is frequently expressed in dash numbers where each number equals 1/16".
| | | |
| --- | --- | --- |
| Dash No. | All Hoses Except A/C and Transportation | Transportation and A/C Hoses Only |
| -4 | 1/4" | 3/16" |
| -5 | 5/16" | 1/4" |
| -6 | 3/8" | 5/16" |
| -8 | 1/2" | 13/32" |
| -10 | 5/8" | 1/2" |
| -12 | 3/4" | 5/8" |
| -16 | 1" | 7/8" |
| -20 | 1 1/4" | 1 1/8" |
| -24 | 1 1/2" | 1 3/8" |
| -32 | 2" | 1 13/16" |
Temperature:
When selecting hose, you must be aware of both the ambient and media temperatures.
Ambient: The temperature outside the hose.
Media: The temperature of the media flowing through the hose.
If you are using a hose in extremely low ambient temperatures (-40°F and lower), be aware that it may become brittle and crack.
Media temperature has the greatest impact on hose life. All hoses are rated with a maximum media temperature of 200° to 400°F. To avoid decreasing the service life of the hose, keep the media temperature below the maximum rated temperature.
Application: Before you select a hose, you need to consider how the hose assembly will be used. Hoses have to withstand heavy amounts of vibration and shock as well as tough environmental conditions, so it's critical to choose one that can stand up to the specific job you're doing.
Media: This refers to the type of fluid being conveyed through the hose. Refer to a chemical compatibility chart to help you select the proper components for hose assembly. The chart matches a variety of fluids against the hose materials.
Pressure: Select a hose with a published maximum working pressure equal to or greater than the maximum system pressure.