You might already know Kimball Midwest stocks more than 51,000 maintenance, repair and operations products. But that doesn't mean we're not adding to that number all the time.
Our Product Line Department is continuously looking for new items to add to our extensive collection of superior quality products, and we do so throughout the year.
In 2020, we've introduced many abrasive items. Here's a quick rundown of new products and product lines that have been expanded:
These flap discs provide noticeably faster performance than conventional small diameter surface conditioning discs. They quickly remove scratches, flashing, rust, paint, corrosion and other contaminants.
They're available in coarse, medium and fine grit and with two arbor styles.
The premium ceramic grain of these flap discs is ideal for quickly and effectively grinding and finishing tough alloys, including stainless steel, cobalt, Inconel, titanium and more. The high cut rate provides fast stock removal that outperforms aluminum oxide and zirconia in difficult grinding applications.
They're available in 2- and 3-inch diameters with three grit levels to meet your needs.
The densely packed flaps in these bands provide superior stock removal compared to conventional abrasive products. The layered flaps wear evenly to constantly expose new, sharp abrasive grain to prevent loading and provide long life and consistent finish.
These bands, which are compact and versatile, are available in three grits.
These belts remove scratches, flashing, rust, oxidation and coatings from metal surfaces. They provide light deburring, polishing and blending. They are ideal for edges and most metals, including steel, aluminum and stainless steel.
They're available in two sizes and four grits.

These discs' unique non-loading design helps ensure high stock removal and long life, with increased resistance to loading on virtually all materials. They are versatile, performing on steel, stainless steel, aluminum, titanium, magnesium, copper, zinc, lead and composite materials like plastics and carbon fiber.
They are available in two grits and two arbor styles.
This handy set contains three rolls of 1.5" x 10-yard emery cloth (one fine grit, one medium grit and one coarse grit). This allows for convenient storage and easy use and is ideal for all metal finishing and polishing applications.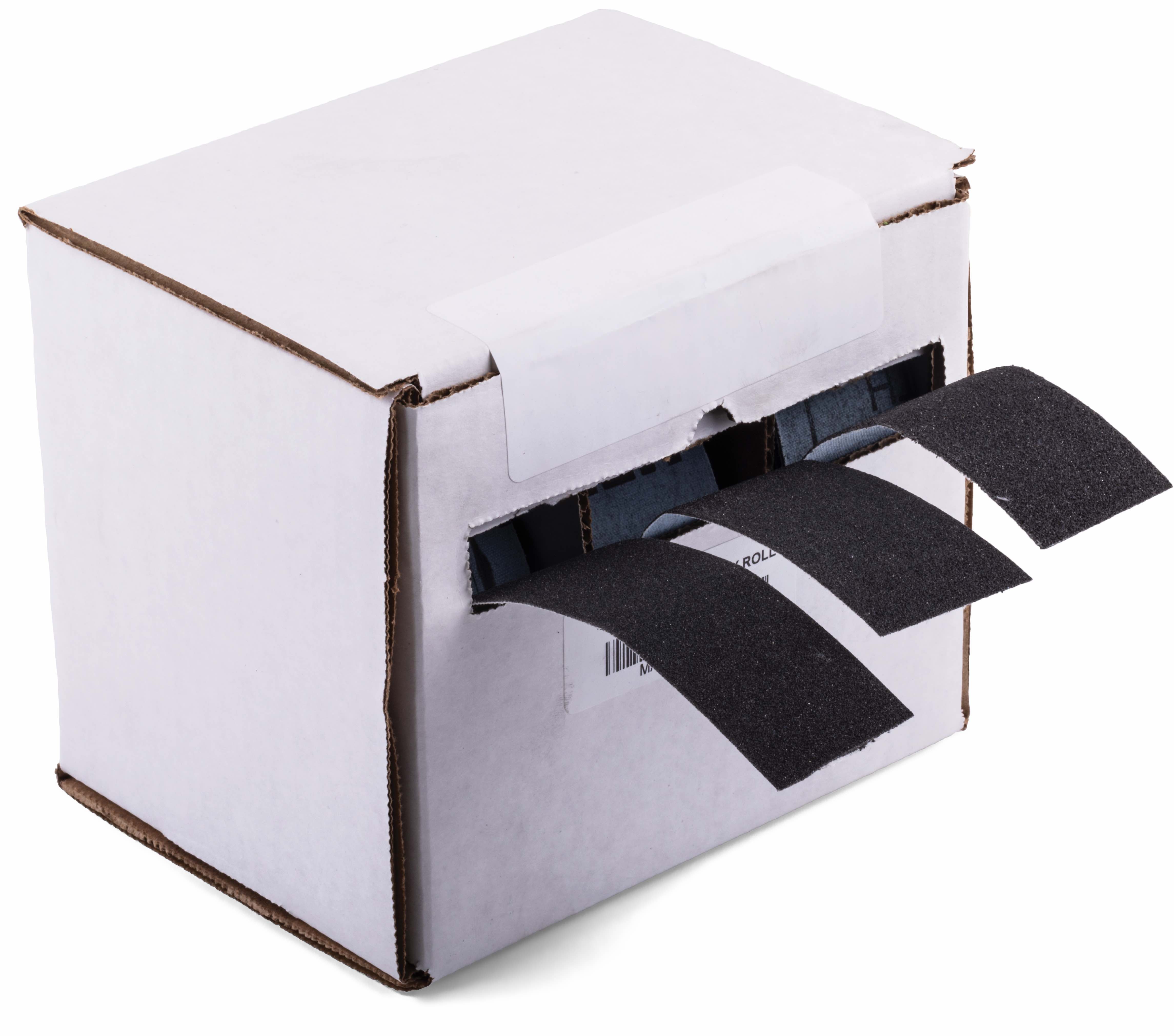 This sander allows precise stock removal and surface preparation. It's ideal for use on edges, contoured surfaces and cylindrical parts. Its 360-degree head pivots independently of the handle and motor for use in tight areas.
This tool offers an ultra-compact design, easily fitting in the palm of the hand. At just one pound, it helps reduce fatigue and is easy to use in nearly any orientation. Its powerful 0.4 HP motor allows for fast job completion, and the wide paddle actuator is ergonomic and easy to operate.
This new angle grinder nut doesn't require any wrench or other tool. Just spin it on and tighten using the integrated pull-up handle. The universal design threads onto angle grinders with 5/8-11 spindles to secure discs with 7/8" arbor holes.
The zinc plating provides rust and corrosion resistance for long service life.
Having trouble deciding which items could make a difference in your shop? Your local Kimball Midwest sales representative will be happy to help you find the right choices for your operation.