Spring is in the air (depending on where you live), and thoughts are turning to the outdoors. If your area had a bad winter, your parking lot may need a refresh. Faded striping is not only unsightly, it is unsafe. So, too, is any damage to the pavement caused by winter conditions. If your parking lot is pocked with potholes, cracks and other damage, you should consider replacing or resurfacing before you do any painting.
Once the surface is good to go, you can focus on the parking lot layout. Safety for drivers and pedestrians should be your priority, along with accessibility and convenience. The layout requires careful thought to maximize space and traffic flow, and the striping and directional marks need to be highly visible and well defined.
Laying out a parking lot is no simple task. How many spaces do you need? What size should they be? Should they be straight-in, angled or parallel? What about spots for people with disabilities?
Here are some basic guidelines:
Parking space stripes typically are 4 inches wide and between 15 and 18 feet long.
Parking spaces commonly measure 9 feet wide by 18 feet long. Check zoning regulations for the recommended size in your area. Smaller spaces could be designated for compact cars in order to maximize the lot.
Straight-in (90°) spaces allow for more cars, but getting in and out is more difficult. This layout is best for all-day parking situations.
Angled parking (60°) is easier to navigate and commonly used in places where people come and go quickly. A smaller parking lot might benefit from angled spaces at 45°.
The lanes between rows should be:
24 feet wide for straight-in parking (two-way traffic).
14.5 feet for 60° angled parking (one-way traffic).
12 feet for 45° angled parking (one-way traffic).
12 feet for one-way parallel parking.
22 feet for two-way parallel parking.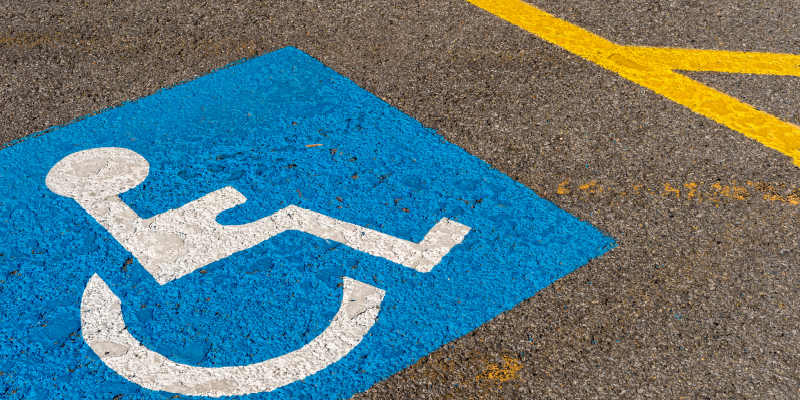 When it comes to striping and signing spaces for people with disabilities, check your local government regulations for the requirements, as well as
Section 4.6
of the Americans with Disabilities Act.
Once the layout is done, do some prep work.
Ensure the surface you're painting is clean and dry. The right surface conditions allow the paint to adhere better.
Double-check the layout of the parking lot so you don't end up making a costly mistake. Measure twice.
Mark the curbs, stops and barricades before striping.
Yellow
and
white
water-based traffic paints are a good option, or you can choose solvent-based paints in
yellow
or
white
. White is typically used to mark lines, while yellow paint is used for striping dangerous areas. You will also need a
traffic marking paint machine
to help with paint application.