Do you outsource your hydraulic hose assemblies? Depending on how often you need them, it can be more cost-efficient and convenient to crimp the hoses yourself. If the thought of crimping hoses makes you a bit nervous, fear not. We'll explain what you need to make good hose assemblies and how to properly prepare them for crimping.
A hydraulics system setup is based on a few simple principles:
The hose drives the proper fitting series and crimper choice.
The crimper selection is based on planned use.
The fitting selection is based on application.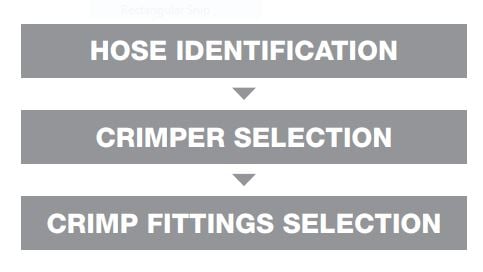 It's important to note all hydraulic parts should come from the same manufacturer due to liability issues and warranties.
Hoses
With so many types of hydraulic hoses on the market, how do you figure out which type you need? The factors to consider are size, temperature, application, media and pressure. This blog post breaks it down for you.
Once you know what kind of hose you need, you can select the crimper.
Crimpers
The crimper you select should be based on its planned use. A crimper package will provide you with the basics you need to get started. These packages include one K-Series Crimper with hose and fittings. You need to determine whether a stationary or portable crimper will best fit your needs.
A portable crimper generally uses a hand pump or air power to crimp the hose ends.
A bench-mounted unit uses either an electric or air-powered pump.
Thinking of a stationary crimper? We covered maintenance and safety for stationary crimpers in a previous blog post. Want to know more about portable crimpers? We covered those, too.
Fittings
Some styles of fittings are more commonly used than others.
Pipe fittings are available in rigid and swiveling styles with male or female ends. Male pipe has a tapered external thread that tightens into the taped internal threads of the female pipe fitting.
37º JIC male rigid and female swivels are the most common ends for most hydraulic hose connections. 37° refers to the angle of the cone seat on the end of the male fitting that matches a 37° seat inside the female swivel.
British parallel and taper pipe fittings are the standard style used by most European and Japanese manufacturers.
Flat face O-ring seal fittings are becoming more popular as they are used to replace pipe fittings in many applications. The male end has a groove that contains a rubber O-ring. That O-ring seals against the flat sealing face inside the female swivel.
Split flange fittings are often found on large diameter hoses.
Now that you have everything ready to go, you can prepare your hydraulic hose assembly for crimping.
A Kimball Midwest sales representative can help you determine which hydraulic components best meet your needs and can even put together a completely customized Plan-O-Graph. This maximizes efficiency and safety while eliminating overstock and obsolete inventory.
To learn more about crimping and how to do it safely, schedule a free
.